Date/Time
Date(s) - 08/13/17
9:00 am - 11:00 am
The 9:00 am service will feature German American Institute's Männerchor (German men's singing group).  Brunch will follow the service.  All are welcome.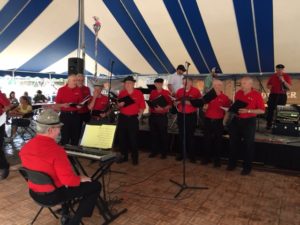 Twin Cities Männerchor
Affiliated with the Germanic-American Institute, St. Paul, MN
The Twin Cities Männerchor, a chorus of volunteers directed by Dan Ritter, sings German folk songs, hymns and Christmas music, mostly in four-part male harmony. It first performed at German Day in June, 1994 at the Germanic-American Institute (GAI) in St. Paul. By 1996 it was performing each year at major events held at GAI such as the spring and fall open houses, and German Days in June. The chorus had also begun the tradition of singing each year at a Good Friday German language service and a German language Christmas service on a Sunday near Christmas at St. Paul's United Church of Christ in St. Paul, MN.
The chorus has performed at a variety of other venues away from GAI including The German American Fellowship Association in Bloomington, MN, Calvary Center Cooperative and Covenant Garden Senior Residences in Golden Valley, MN; The Shoreview-Einhausen Sister City Association Annual Meeting in Roseville, MN; The Landmark Center in St. Paul, MN; The Worldwide Sounds Concert at First Lutheran Church of Columbia Heights, MN; Oktoberfest on the St. Anthony Main in Minneapolis; and the Minnesota Landscape Arboretum in Chaska, MN.
Location
St Peter Lutheran Church